Corporate Profile

Do your wines embody the producer's passion or terroir characteristics?
- We stand by our "100% reefer principle" for all of our products in order to deliver the producer's
passion and terroir characteristics.
---

"100% reefer" refers to the transportation of our imported wines in refrigerated shipping containers, also known as "reefer" containers, which keep the wines at a constant temperature throughout the entire journey across oceans and over land, from the producers to customers.
Flavor of wine is affected by environment. When shipped and stored at appropriate temperatures, wine will retain its genuine taste. However, when wine is in an improper environment, its flavor would change.
As a wine importer, we thought about ways to deliver these "Blessings of Nature" and "Passions of the Producer" the way they are, resulting in the introduction of our "100% reefer" principle.
The word "reefer" is not native to the wine industry. For instance, one can refer to a product as "reefer" only if a reefer container is used during the maritime shipping
process. We choose the "100% reefer" wording because a constant temperature is maintained the throughout our entire shipping process; at sea and even on land.

The image above shows the flow of wine from our main producers (they are called negociant in Bordeaux) to our customers.


This is a reefer truck. They collect wines from each producer and then transport to the forwarder's warehouses.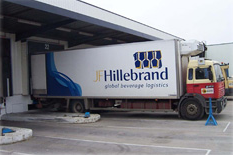 ▲ Inside of a reefer truck.(*1)
▼ Temperature is kept at 15° C/59° F. (*1)


Wines gathered at the forwarder's warehouses will be packed in containers and transported to the port. Electric power is always on, even in the container yard. The temperature is always under strict control regardless of time and point.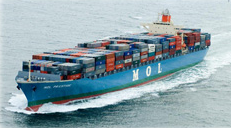 ▲ Container ship (*2)
Reefer containers, constructed using aluminium. copper, and stainless, are frigeration units, with insulation materials in the walls. For sea transportation, reefer containers are surrounded by "dry" containers or placed under the ships deck so that they are not exposed to direct sunlight.
This shows direct shipment transportation courses and durations to Japan. These courses or durations can vary if a ship makes port calls along the route or meets unexpected weather. Should this happen, the contents of dry containers may be affected by extreme temperatures depending on the season, which makes the environment of dry containers less desirable for the shipment of wines.
direct shipment transportation courses and durations to Japan
France
31days
America
12days
Italy
30days
Argentina
25days
Spain
37days
Australia
14days
Germany
35days
South-Africa
24days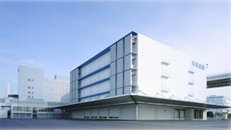 ▲ Teisan Warehouse
All wines are stored at Teisan Warehouse at Yokohama Daikoku pier where a constant temperature inside the reefer container is constantly maintained.
Ships port at either Tokyo or Yokohama. Electric power remains on while the container is delivered from the ship to Teisan Warehouse, which usually takes at least 15 minutes. The photo below is where the container is placed. The container receives electricity via the red plug in the middle of the generator.
After arriving at Teisan Warehouse, electric cables are reconnected to the red plugs on the containers so that wine's temperature is maintained.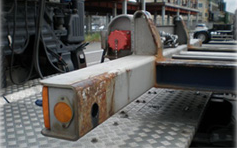 ▲ Power source on the truck for the container (3*)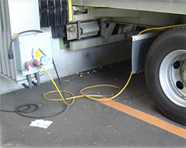 ▲ How the container is charged at Teisan Warehouse (4*)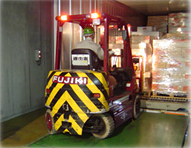 ▲ How wine is transported out of the reefer container and into dock shelters.
Teisan Warehouse's dock shelters are resizable for any containers or trucks. Therefore, wines will not be exposed to air during unloading.
Quality control, labelling, and sorting of the shipped wine are all done inside this climate-controlled warehouse.

Our delivery from Teisan Warehouse to our customers use wine cars, which of keeping the temperature of transported goods at 15° C/59° F, in addition to being shipped using Sagawa Express "Cool Delivery". (More about logistics, please refer to ■About Us■About Logistics.)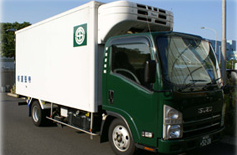 ▲ Teisan Transport Wine cars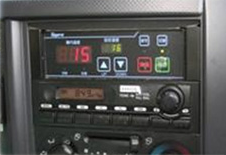 ▲ control panel of temperature
The most difficult part of instituting our "100% reefer" principle was the transition from existing land transportation methods in South America or South Africa to our preferred reefer transport.
In France or Italy where logistics are well developed, reefer transportation has been widely adopted. However, in countries like Argentina where dry transportation is the most common method we had to arrange for reefer trucks to transport our wines.
Currently, we have succeeded in implementing reefer transportation in 11 countries including Chile, Argentina and South Africa.
It was achieved by understanding in our partner companies, including production, transportation, and storage. Thank you for those fine people for understanding our philosophy that: Wine brings the "Blessings of Nature" and "Passions of the Producer", a joy which we seek to share and spread.
Also, cost reduction is achieved by using more 40 ft. containers instead of 20 ft. containers, importation more efficient. Therefore, we put "100% reefer" into practice without increasing the price of our products for consumers.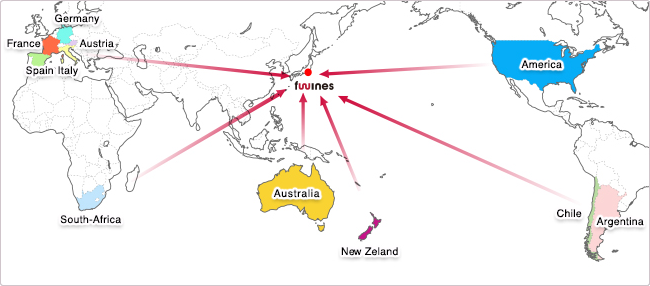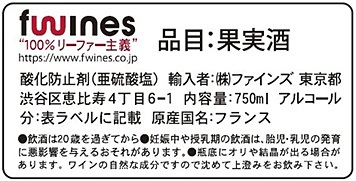 Wines shipped by 100% reefer have labels on the back of the bottles saying "100% reefer principle". (New labels are used for imports since July 2009. Some wines do not have these labels because some producers use their own labels.)
Check out our labels on the back of our imported wine at your local stores.
We believe that 100% reefer is a wonderful shipping practice since we are able to deliver the wine producer's passion to those who enjoy wine. But, we are aware that putting it into practice does consume a lot of electricity. As a company dealing with wine, which we consider to be gifts from nature, we are deeply conscious of the importance of the environment and our responsibility to it.
We are planning eco-friendly practices beyond saving energy through implementing more efficient port entry. These practices will be updated on our website.
<Pictures courtesy of>
*1: JF Hillebrand Japan Co., Ltd.
*2: Mitsui O.S.K. Lines, Ltd.
*3: Sanjo Transportation KK(not available English site)
*4: Teisan Warehouse Co., Ltd.