Corporate Profile

Logistics using dock shelter – complete control: constant temperature and humidity control ensure our imported wines' pristine quality is kept intact -
---

▲Teisan Warehouse is located in a prime area to serve as a distribution center for the entire capital area
To remain committed to quality control over our wines, we are using a distribution using a distribution center in Yokohama (Yokohama-shi, Tsurumi-ku, DaikokuFuto) provided by Teisan Warehouse Ltd, which has been operating since January 5, 2006.
This distribution center is a high-tech constant temperature and humidity warehouse, featuring an installed dock shelter system that keeps our sealed pallets airtight. This enables the temperature and humidity to be kept completely constant during loading, storing, shipping, and unloading.
▲Electric forklift in use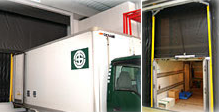 ▲ Shipments at the dock shelter
Dock shelters with resizable doors depending on container size. There is no exposure to outside air. This new distribution center has two dock shelters installed.
Our integration of storage and shipping into a single warehouse in Teisan Warehouse enables the shipping of our imported products. The distribution area of 15° C wine cars has been expanded to Kyoto, Osaka, Hyogo, and Aichi, which is in addition to the existing Tokyo, Kanagawa, Saitama, and Chiba areas. We assure of the quality of our wines until they are in the hands of our customers.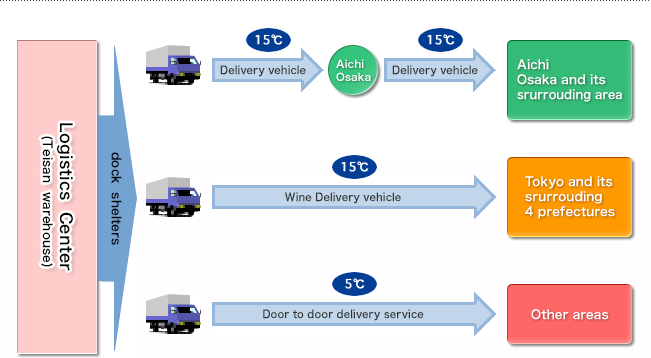 Our products are all transported by reefer (constant temperature) containers and stored in a constant temperature and humidity warehouse. Through this method, our process embodies our philosophy that: Wine brings the "Blessings of Nature" and "Passions of the Producer", a joy which we seek to share and spread.